The Support, Advocacy & Resource Center (SARC) has grown beyond its current facility which is negatively impacting our ability to provide much needed services to victims of crime, the majority being victims of child sexual abuse.
The need for counseling from clients who cannot afford therapy and do not have insurance is not being met.

The facility does not have adequate room for multi-disciplinary team meetings with clients, advocates, law enforcement, prosecutors and child protective services.


The waiting area is not sufficient.


The space for client resources is lacking.



We have begun a capital campaign to build a new facility. The project has an approximate cost of $1.5 million. We only need to raise $250,000 more!! Your donation will be greatly appreciated. Please see various donor levels below.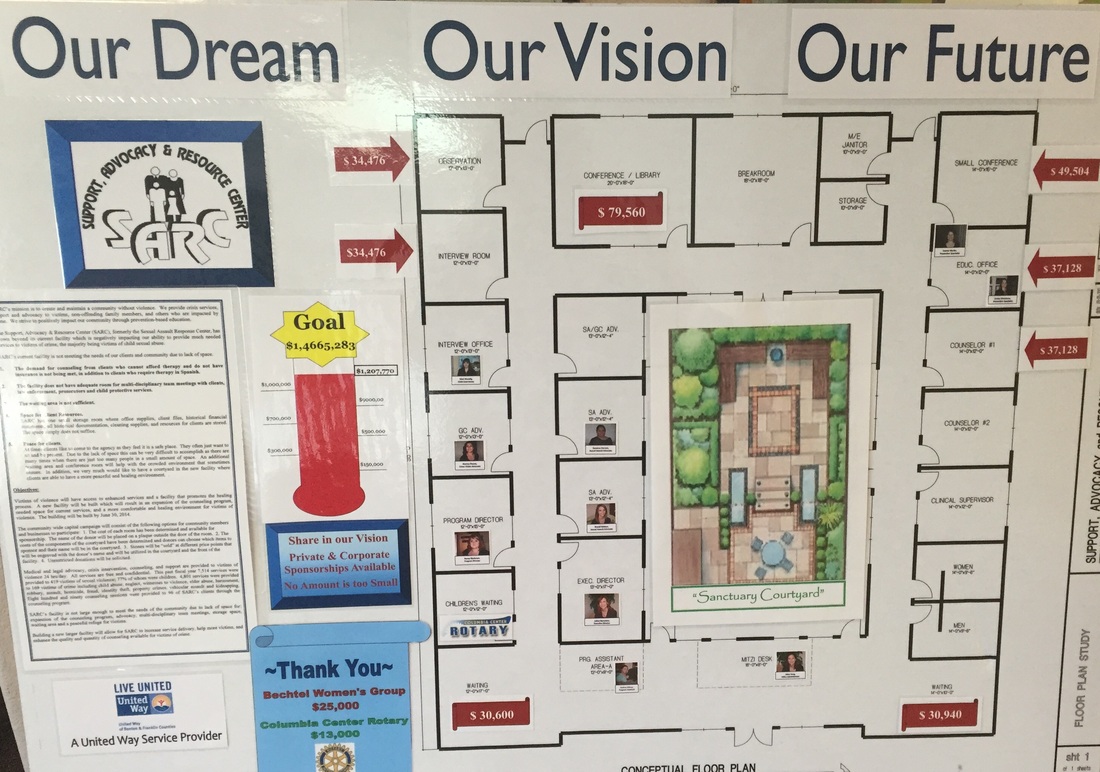 Leader: $250,000 or more

(Department of Commerce)
Naming Opportunity •Donor Gift • Certificate of Appreciation • Recognition on Campaign Donor Wall • Recognition in Annual Report • Acknowledgement on Website

Visionary: $100,000 to $249,000
Naming Opportunity •Donor Gift • Certificate of Appreciation • Recognition on Campaign Donor Wall • Recognition in Annual Report • Acknowledgement on Website

Hero: $50,000 to $99,999
Naming Opportunity •Donor Gift • Certificate of Appreciation • Recognition on Campaign Donor Wall • Recognition in Annual Report • Acknowledgement on Website

Vanguard: $25,000 to $49,999
(Bechtel Women's Group)
Naming Opportunity •Donor Gift • Certificate of Appreciation • Recognition on Campaign Donor Wall • Recognition in Annual Report • Acknowledgement on Website

Guardian: $10,000 to $24,999
(Columbia Center Rotary)
•Donor Gift • Certificate of Appreciation • Recognition on Campaign Donor Wall • Recognition in Annual Report • Acknowledgement on Website

Partner: $5,000 to $9,999

(Bechtel)
• Certificate of Appreciation • Recognition of Campaign Donor Wall • Recognition in Annual Report • Acknowledgement on Website

Supporter: $1,000 to $4,999
(Marilyn Heasley, David and Janice Roach, Rick and JoDee Garretson, Drs. Johnathan and Katherine Perry, Phil McGuinness, Richland Rotary, Mid Columbia Rotaract)
• Recognition on Campaign Donor Wall • Recognition in Annual Report • Acknowledgement on Website

Friend: $500 to $999
(Jim Stoffels, Lord of Life Lutheran Church, Betsy Dickinson, Agrium Inc, Budget Print Center)
• Recognition in Annual Report • Acknowledgement on Website

Associate: Under $500
(Robert and Caroline Quay, Dr. Naughne Boyd, Gledhill Dental, Kolleen Ledgerwood/Ledgerwood Law Office, Steven Yaffe, Kathy Doto, Wayne and Pamela Pelly, David and Pauline Brantingham, Blue Knights Washington III, Aaron McGinnis, Michael McGinnis, Kayleigh McGinnis, Abadan, James Lukas, Richard and Pamela Browns, Kristi and Ethan Nelson)
• Recognition in Annual Report • Acknowledgement on Website